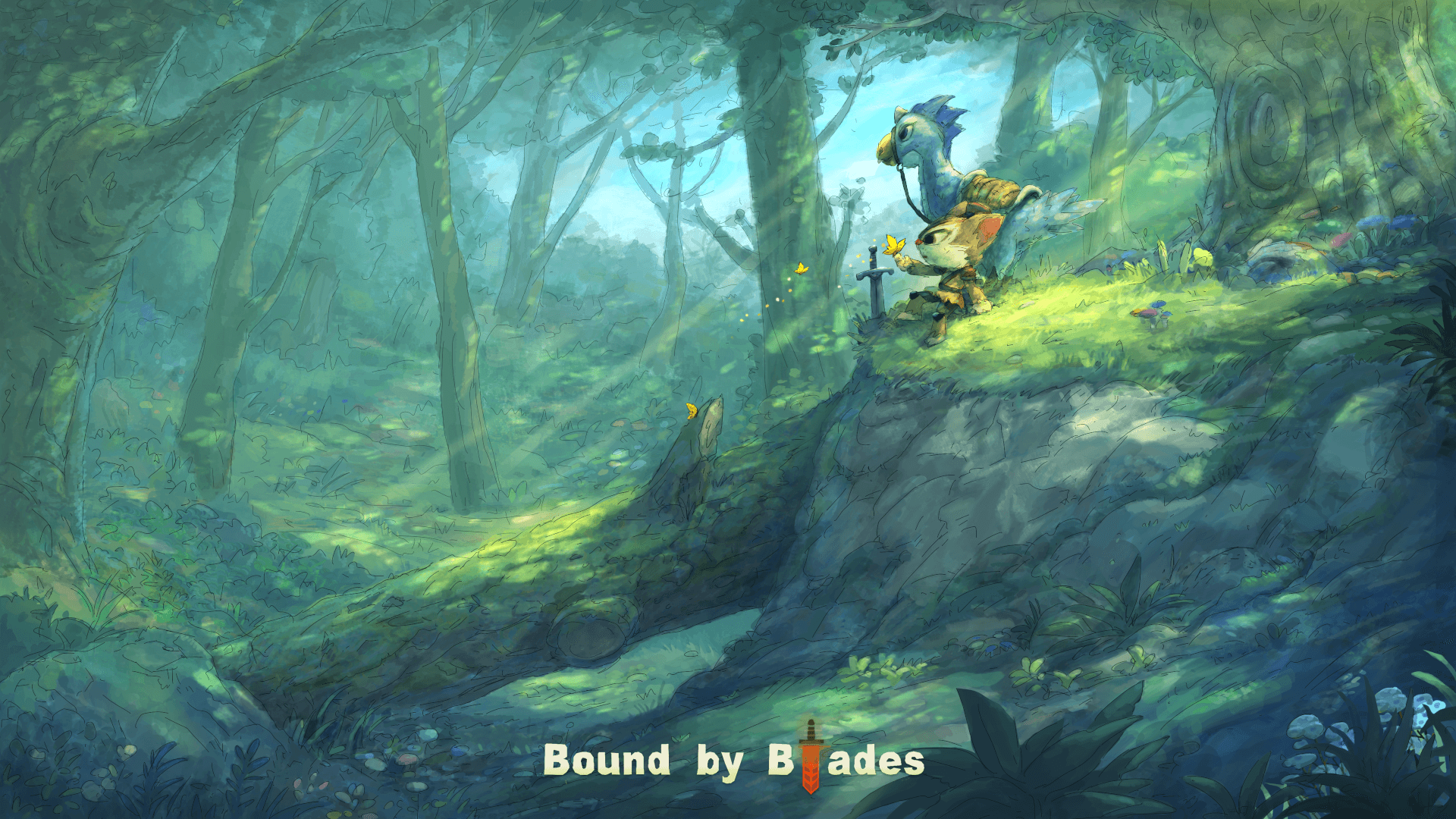 Bound By Blades
Kickstarter Updates - New Build, Developer Background, and more!
---
Hey there! We've got more updates!
Check them out individually here on our Kickstarter page!
https://www.kickstarter.com/projects/boundbyblades/bound-by-blades-a-monster-hunting-action-rpg/posts

These updates are getting long! Here's an overview of this update
Game Build Updated!
Cute Finny voice by Astreigha who did an awesome stream of the game!
Language Support Announced!
Game Build Update KS - 6
Game Build updated on Steam, Itch, and Gamejolt! (iOS Testflight updated soon!) Also thanks for all the amazing feedback, bugs reported, and suggestions everyone!
Fixed infinite upgrade bug
Fixed multiple visual bugs in the blacksmith to update properly
Updated tutorial for blacksmith while using a controller to be easier to understand
Fixed dodging while dashing bug
Updated Blacksmith to hide Upgrade button until it's possible to upgrade
Added glow to Rocks and Trees in Dreamland to show they are harvestable
Added insta-auto loot in case you start running away while harvesting materials in Dreamland
Cute Finny Voice By Astreigha
Here's a cute Finny Voice by one of the amazing people who streamed our game, Astreigha
Language Support!
We've just confirmed with our team the first languages we'll support on (or shortly after release)! These are more so what our own team is able to do itself, as we build the system out later on we'll be looking for more options so let us know what you want supported!
Keep Spreading the Word About BBB!
As our Kickstarter moves on we're getting more streams, videos, contacts and more about the game! Keep up the word, make sure to tell your friends and post online about the game too! We need all the support we can get to make sure we fund! :)
Fan Challenge Polls
We've also started a poll on our Twitter here for what kind of challenges the community would like to take on! Fan Art, fastest S+ on Challenge bosses (good luck here!), best design challenge, or Other (which is taken over by Fan Music which is awesome too!). Vote and let us know, or comment in the update here!
Update 2

For this update I want to talk a little about myself (Zeth), my background, and what drove me to create Bound By Blades. I made my start almost 10 years ago at Nickelodeon Virtual Worlds as an unpaid intern doing QA work for several months. Shortly after my internship ended, my boss at the time left and started his own company known as Tic Toc Games which you may know from the awesome game Adventures of Pip. He hired me as a QA tester, and I quickly I rose through many roles such as level and game design and eventually becoming a game director.
Tic Toc Games was another family to me, but we worked primarily on mobile games for publishers, and the intentions behind the designs were always heartless and only focusing on monetization. From the beginning I wanted to design a mobile game that was single purchase only, that took inspiration from the Monster Hunter series and brought it to mobile without the annoying virtual joysticks or buttons to ensure it felt smooth to play. That was where the 4 corner combat system came from - to utilize the corners of your device comfortably. Those were ideas I had early into QA, and added to throughout my experience in the mobile industry, as I started becoming heavily depressed and unhappy as I learned more about how those games impacted people. Eventually I took leave of absence for a well needed break, but the more I thought about returning the worse I got.
I then looked into other companies outside of mobile, but having mobile as my background left me with no luck. Eventually I took the biggest leap I ever have in my life, and checked out an online C# programming website, codeasy.net. After a few days on there, I jumped into Unity tutorials in which I was learning how to click on a circle to make it grow - that single tutorial became the boss script, in which you tap/click to take off the boss's health. One step at a time, every day for 2 years, I kept working on building it out: porting it to mobile, adding new areas, crafting, harvesting, hiring freelancers who eventually became our amazing team members, and finally reaching the goal of a solid playable demo to release on our Kickstarter that we have now!
My whole intention is to help push the entire game industry in a better direction, to battle against exploiting people with methods like loot boxes and impulse purchases, as well as devious tactics, exclusivity, and everything else that is primarily against the players.
I also want to thank my family for helping support me throughout everything to help let me save money from living costs and spend it instead on helping realize the beautiful world of Bound By Blades, I would not be here without them!
Podcast
This is a great podcast in which I talk with Game Wisdom's Josh Bycer about the game and a little about the mobile industry (Our latest live podcast will have the video up soon!)
Bound By Blades Game Design Podcast
Thank you for your support!
Thank you everyone who has helped support this crazy dream of mine, and all of the effort and hopes my whole team has put in together to deliver an amazing experience for everyone to enjoy!
And if you ever have questions, suggestions or even just want to chat with us, please join our Discord where we're very active!
Thanks everyone for checking out our game,
Zeth
Files
Bound By Blades Demo - Windows
71 MB
75 days ago
Bound By Blades Demo - Android
90 MB
75 days ago